I believe that it is helpful to frame my financial solution within the context of alternative road safety and aestheic matters on or at the periphery around Moose Hill which also could benefit if resources were diverted from undoing the physical defects affecting 125 MHP. Moose Hill is the Town's largest geographic area, major outside attraction, and second to The Lake within Sharon as a natural attraction.
Crumpled Lethal Retaining Posts
Since my moving onto The Hill, the crumpled and rusted retaining posts on Moose Hill Parkway near the Water Works have remained a reminder of the old wire-rope retention system. Perhaps, quaint history, these useless concrete posts are lethal... just plain old lethal with their rusted re-enforcing rods pointing outward just waiting to impale the kid on a bicycle, or person who hit it with a car. It's time for them to go. Now!
Moose Hill
When Moose Hill Street was done, a corner just past the Sancturary's Main House was made tighter by the contractor. Though not by much, this has made negotiating the bend difficult with oncoming vehicles. Again, as with the insterection of Moose Hill Street and Walpole Street, drivers have responded by clipping the corner. So much so that the Town DPW has place stone/stonedust to refill the hole which still ruts to create a dangerous situations of a wheel being "grabbed" by the depression. But, it is time for this cormer to be permanently fixed. Someone is going to get into an accident!
Moose Hill Street & Waplole Street Intersection
Within a day that I became aware of this construction, I became involved by writing a letter and meeting with Police Chief Bernstein, for certain, to express my concerns from both a safety / driving (and fire) matter, and I beleive that I met with a supervisor at the DPW offices regarding the aesthetics. Along the way, I was told that this change was affected due to a mandate to square-off intersections... make roads perpenticular to one another ** Nonetheless... the construction continued... and my predictions (which are locked in a broken computer) came true.
The place is a mess... EVEN POLICE AND DPW trucks have been observed standing on the "lawn" which both doesn't exist and isn't even attempted by the Town.
Further, the turn to make the road straight (I know that this sounds funny) is so severe that THREE separate arrow signs (so much for natural beauty) had to be placed to caution drivers that never previously needed caution!
AND IN PROTEST TO THIS FAILED re-ENGINEERING, DRIVERS...all kinds of drivers... have driven over the lawn to re-create a straight line of Moose Hill Street.
Walpole Street is a gateway into Sharon. Arguably, this is the ugliest intersection in The Town, and it does not convey the natural image of the area or standards of the Town! It's certainly not The Town placing it "best foot forward." It's time to re-address the mess! Return the road to its natural flow or place rustic barriers and replant lawn. There is an adjacent tiny historic cemetary just dying for re-beautification.
**WERE THIS THE ABOLUTE CASE THEN DEPOT STREET AND MAIN (by Dedham Savings Bank) SHOULD HAVE SURELY BEEN FIRST ON THE LIST FOR THIS IS A SEMI-HAIRPIN TURN HEADING SOUTH FROM MAIN TURNING ONTO DEPOT IS A CONTORTION.
Now Dangerous -- Old Curve Had A Bigger Arc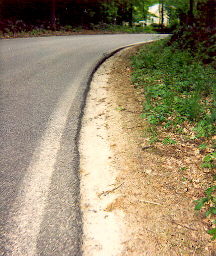 Curve Cut Too Tightly
Car Enters Other Side Of MHS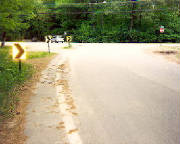 Wasted $$$... Missing Lawn... plus... Three Signs For A 5 Degree Curve!
Intersection Gets No Respect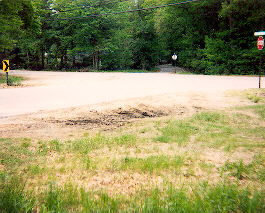 DPW, Police, & Other Park on Lawns